EDExams offers a fully invigilated and proctored service for exams and assessments for colleges and universities. EDExams is an all in-in-one exam/assessment platform that allows you to
create and deliver your own examinations/assessments for any faculty, qualification or course.
Our system allows will support you and your organisation every step of the way, enabling you to create exam papers, exam sittings, admin users and mark examination/assessment papers.

EDExams enables you and your candidates to progress through their exam stages as part of their final assessment and have a secure, standardised and robust examination delivery. Our platform can be white labelled and bespoke for any further education, college or university and EDExams allows access for:
candidates/learners
assessors/tutors/lecturers
quality assurance team
administration team
management/faculty leaders
external verifiers
external markers
invigilators
proctors
auditor
government official/inspector
centre staff
All access is permission-based and secure access to your examinations and assessment is per:
course
qualification
faculties
level
exam requirements for the policies and procedures
staff experience
centre
Our platform enables the awarding organisation to offer a central platform that can: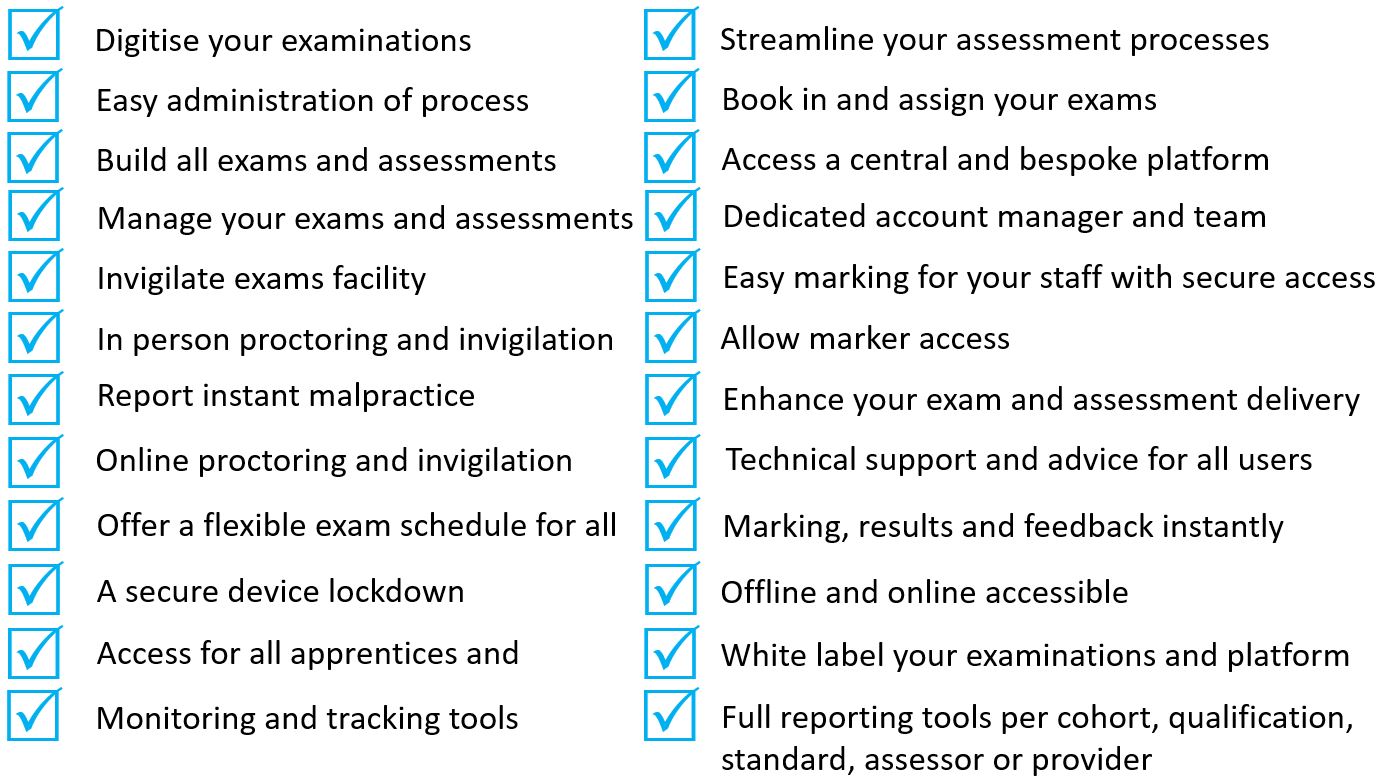 Our marking features:
Fast efficient marking.
Easy-to-use layout.
A sophisticated marking system.
Anonymised answers - putting an end to biased marking.
You can mark exam papers individually or in bulk.
Email alerts.
Model answers are provided for each question.
Proven to reduce paperwork and speed up the marking process.
Answers are grouped by question to allow for quick marking.
Incorporates speed, precision and control to allow you to mark whole exam sittings as quickly and accurately as possible.
EDExams can be tailored for any type of:
Learner
Exam
Faculty
Department
Subject
Module
Topic
By being able to tailor our exam platform for your needs, you can focus the learner's attention to detail for each question, prepare them for a final exam, and most importantly allow them to practice exam techniques under relaxed or specific exam-style regulations.
Reports
Staff, lecturers, quality assurers, administrators and learners will receive feedback from the examiners.
You will receive a comprehensive breakdown of every answer with:
Graphs
Reports
Tracking
Live feeds
Statistics
Individual or groups


© EDExams 2023, part of EDLounge Group Ltd