Our Online Proctoring
EDExams proctoring allows your exams, assessments and tests to take place securely and innovatively with our live or automated and secure proctoring service.
Our application and data are secure.
EDExams allows invigilation and proctoring to take place for anyone, anytime and anywhere and it eliminates the need for you to travel to an exam centre. Our locked-down app can be white labelled and used for any educational establishment, awarding body or business.
EDExams enables any candidate to compete for exams at a time that suits you and them, 24/7.
Our proctoring working with your software
Keep your existing exam software and whilst EDExams proctoring app records and invigilates your candidates.
Our EDExams proctoring app works on a wide range of existing examination and testing software. The application is a desktop application that proctors over the top of your existing software.
Implement online exam proctoring at a scale
As the modern alternative to traditional test monitoring, EDExams proctoring allows test takers to be supervised via a webcam, a microphone, and screen access. We add deep video analysis to offer you non-intrusive, scalable, and cost-efficient proctoring solutions.
Resolving key proctoring challenges with automation
Eliminate cheating - Remote proctoring software drastically improves the quality of exam monitoring by removing the possibility of human error. Every test taker is closely monitored throughout the entire exam and any sign of aberrant behaviour leads to the session being red-flagged immediately.
Enhance the user experience - With automation, you can provide test-takers with a convenient and accessible proctoring experience. The lack of location and scheduling constraints and the non-intrusive nature of automated proctoring will encourage users to keep coming back to your service.
Boost capacity - Scale your business easily by serving any number of test-takers simultaneously at no additional cost. Improve the efficiency of human labour by involving live proctors to review cases of suspicious behaviour.
Our team
Our proctors/invigilators are educational professionals and come to EDExams with years of experience in schools and colleges.
All of our proctors/invigilators are vetted and DBS checked before they enter employment with EDExams.
Our proctoring/invigilation team's skills are sharpened during our 4-week intensive training program. Instruction focuses on EDExams software, troubleshooting, privacy and the identification of suspicious behaviour. The final 15 hours of training include situational analysis and role-playing.
Proctor/invigilation service is built around distinct time zones, ensuring that testers have comprehensive availability, 24 hours per day, 365 days per year, including weekends and holidays.
Our proctors don't miss much – but if they do – our team of experienced auditors acts as a second line of defence.
Auditors review each sitting video and compare notes with the proctor/invigilator or the dedicated customer account manager.
Account Management
At EDExams, we recognise and appreciate that clients have unique needs. Our account managers provide personalised service and expertise to reflect the specific demands of your organisation.
Account management begins during the selling process and continues through implementation and training. Ongoing availability ensures there will never be a time when you do not have access to an EDExams team member.
During high volume test times, your account manager becomes an additional member of your team. Their goal is to ensure a smooth process for you and your candidates.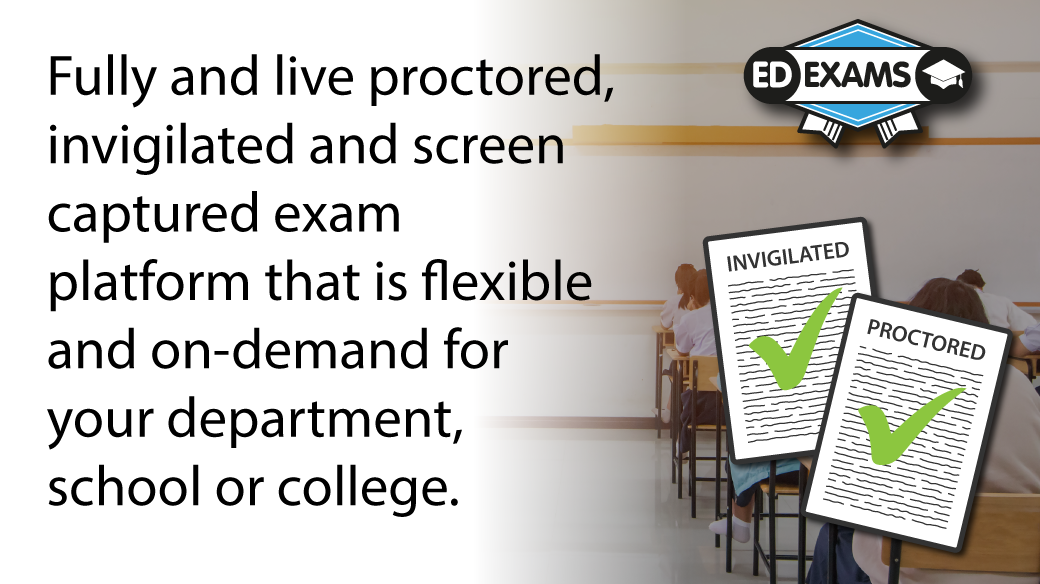 © EDExams 2023, part of EDLounge Group Ltd